You can now use the Apple Watch Fly Now app to quickly log your Out/Off/On/In times, straight from your wrist. No need to take your phone out of your pocket! LogTen will also automatically detect your departure and arrival airports for you, making the process even easier!
Note
watchOS 7 or higher is required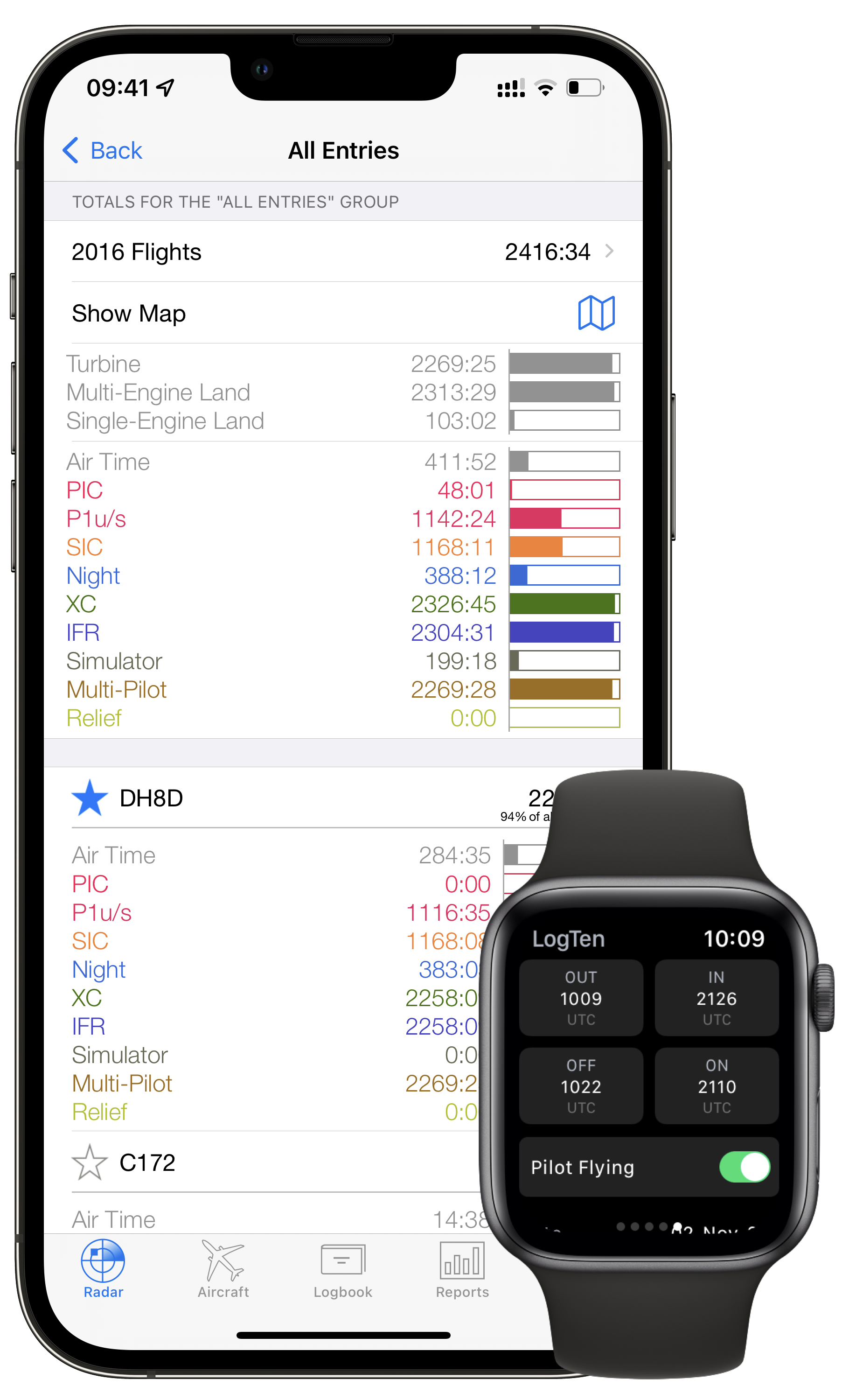 How to add the app to the Apple Watch
To add the app to your Apple Watch, first ensure that you are running at least LogTen version 2021.2 (you can check on your iPhone by tapping on
More → Settings → About
).
If the app is not downloaded to your Apple Watch automatically, you can manually install it by opening the
Watch
app on your iPhone, tapping on
My Watch
, and scrolling until you see
LogTen
.
You can find out more about the process in the official support article from Apple, which you can find here:
Download apps on your Apple Watch
How to log a flight
When you open the Apple Watch app, you will be presented with a screen to start the logging process whenever you are ready: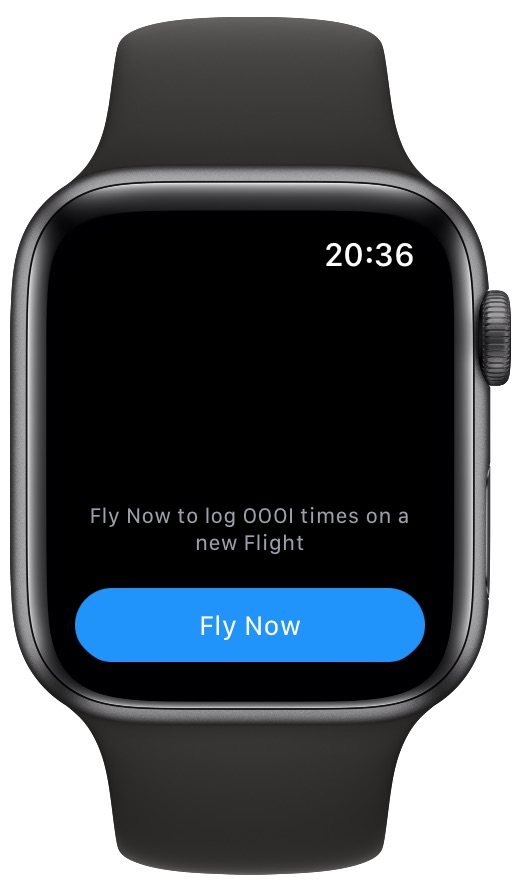 When you tap the "Fly Now" button, you will be taken to a screen like in the screenshot below, where you can tap the large button to log the time.
This screen will have:
A large button indicating the time being logged/edited
A stopwatch, reading the elapsed Total Time
A location indicator

If the times are Off/In (take off, landing), a sun or moon will also appear to indicate a day/night take off/landing.
If the location is unavailable, you might see an "Unavailable" message. It is still possible to manually add the location from your iPhone.

If coordinates are available, but the watch was unable to communicate with the phone, or there were no nearby airports, the location indicator will show "Coordinates". Tapping this will slide open a screen that displays the latitude and longitude.
To commence logging, tap the large button. Once tapped, a time picker will appear, allowing you to fine tune the time if needed.
If it all looks good, or you are logging things on the go, the time will automatically save after 10 seconds. This will automatically move to the next time (in order: Out, Off, On, In), although you can swipe left and right as desired.
Swipping back will allow you to edit the time by holding the large button: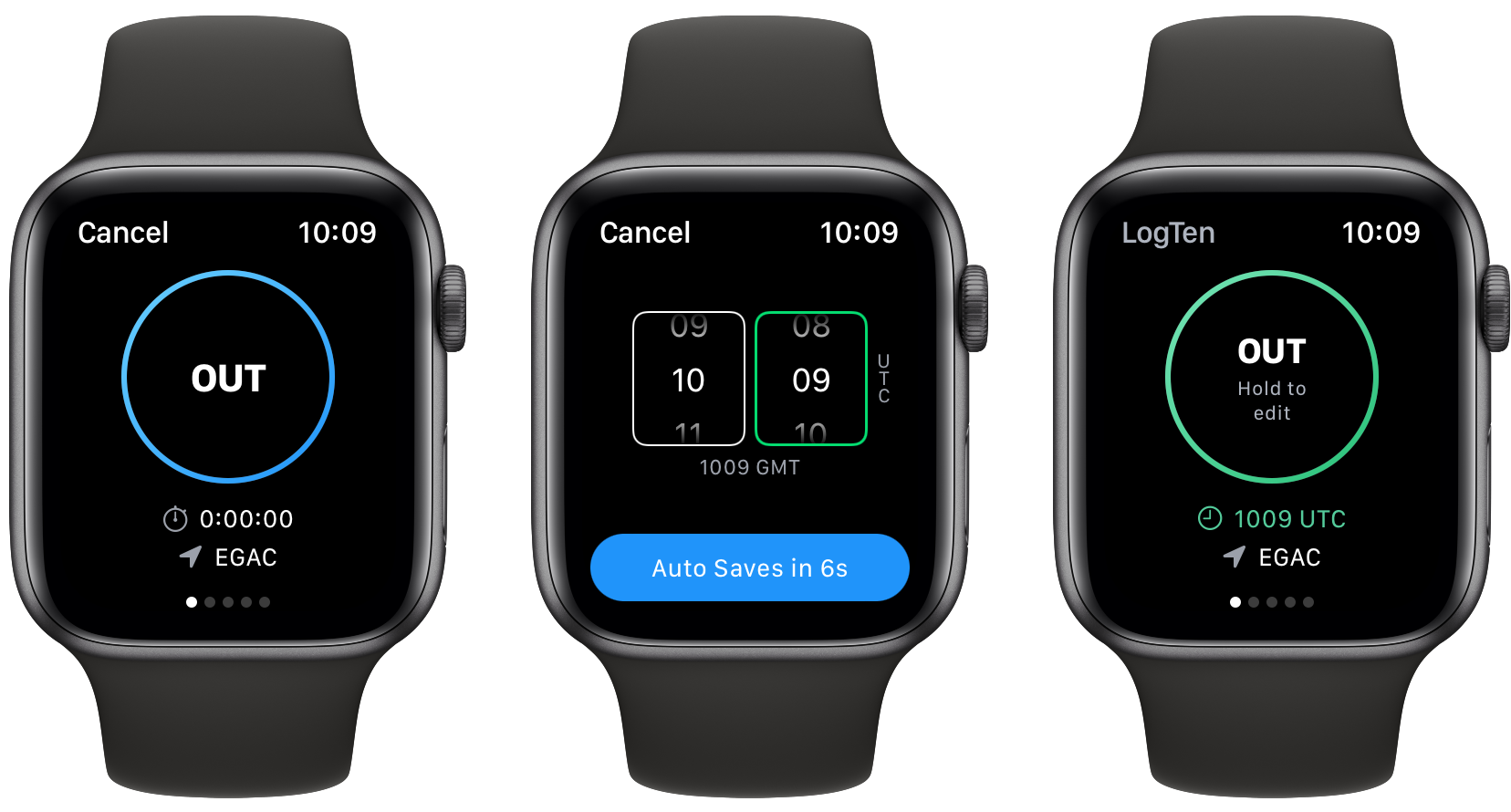 This process is repeated for all four OOOI Times (Out, Off, On, In). Once you have logged your IN time, a Summary screen is presented.
When you reach the Summary screen, you will see:
The OOOI Times (Out/Off/On/In) that have been logged (to edit them, simply tap the relevant box and a time picker will appear)
The "Pilot Flying" toggle, which you can quickly turn on, if appropriate
Departure/Arrival places (with a sun, or moon icon next to them based on whether it was a Day or Night take off or landing)
Total Time, Air Time, Night Time, and Distance of the flight.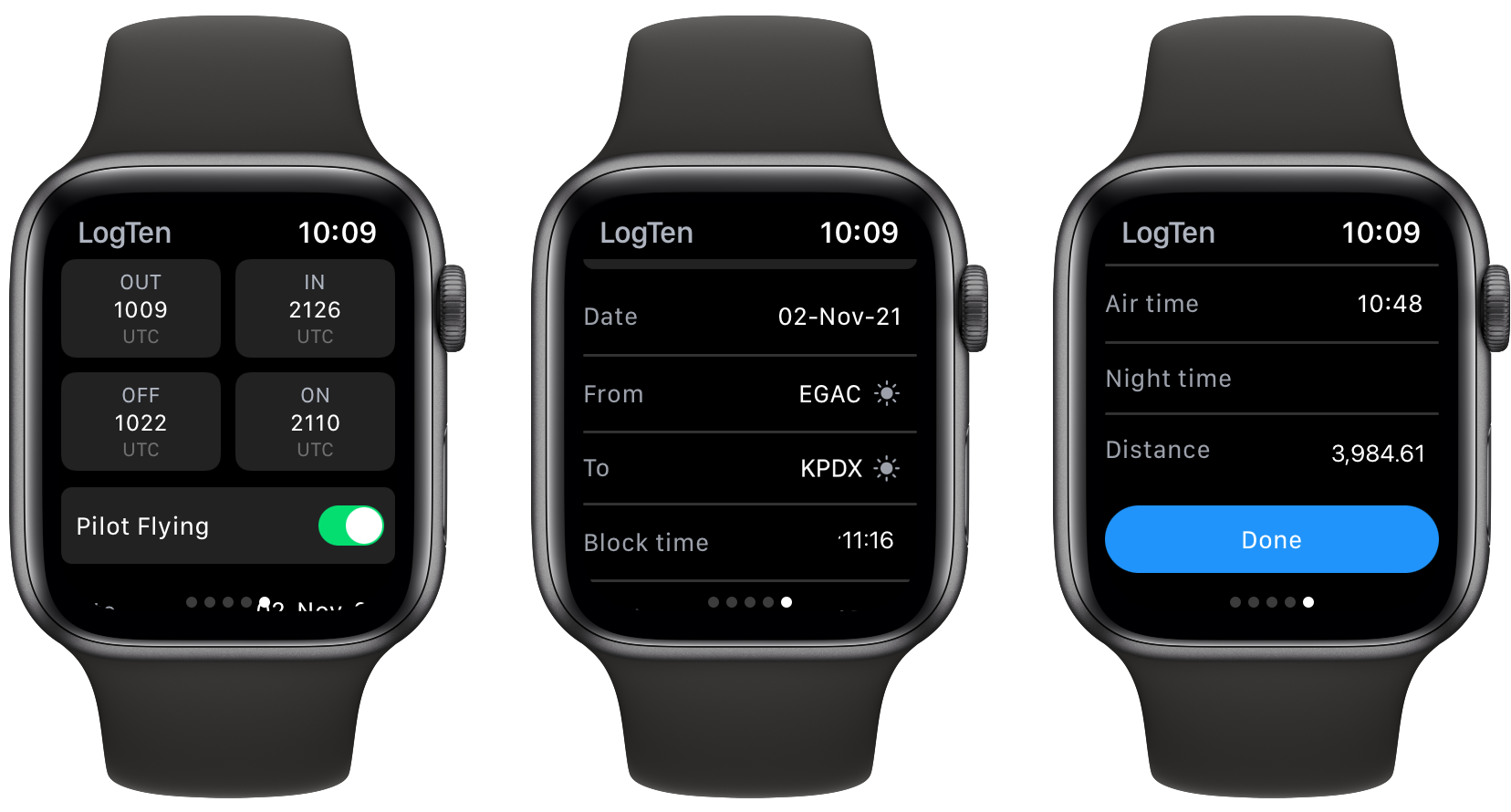 If everything looks good, tap "Done" and the flight will be sent to your iPhone: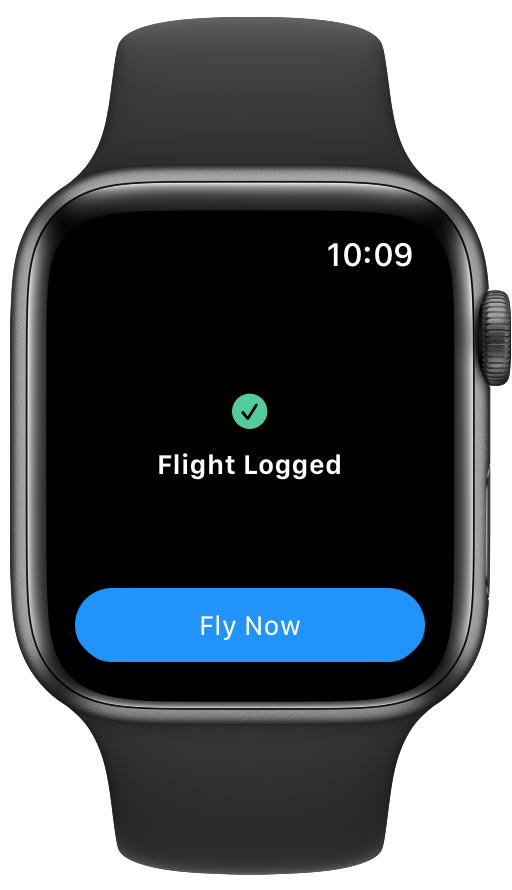 Add LogTen to your Apple Watch face
You can add LogTen to your Apple Watch face, in the form of a Watch Complication, this will allow you quick access to LogTen to start logging your flights even quicker!
To edit your Watch face:
Long-tap the screen, which will enter edit mode
Tap edit
Scroll right until you arrive to the "Complications" edit screen
Tap the position where you want LogTen, and select it from the list
Log your flights in no time!
Apple Support cover complications in this article: Change the Watch face on your Apple Watch