When you backup your entire device, LogTen is included by default. There are several ways to backup your entire device:
Time Machine on Mac
We highly recommend backing up your entire Mac using Time Machine. It is built into your Mac, and it's an amazing backup system that backs up all of your files on a regular basis, and completely in the background so you never have to give it another thought. This page will help you get setup: Mac 101: Time Machine
Apple's iCloud backup on iOS
Apple iOS includes an automatic iCloud backup feature, utilizing the free 5 GB iCloud storage included with your Apple ID. This page has details on setting it up: iCloud Backup.
When the iCloud backup is turned on, then all app data including your LogTen logbook will be backed up to iCloud whenever your device is plugged in, connected to WiFi, and asleep -- usually when you are!
All apps are included in this backup by default, but it is possible to exclude apps from it to save space. The downside of this backup is that it is not possible to restore data for individual apps (meaning you have to restore your whole device from an iCloud backup), but it is very useful if it becomes necessary to transfer to a new device for any reason.
Finder or iTunes Backup
To manually make a backup of your iOS device in iTunes (macOS 10.14 and earlier) or in Finder (macOS 10.15 and later), please see this Apple article on How to back up your iPhone, iPad and iPod Touch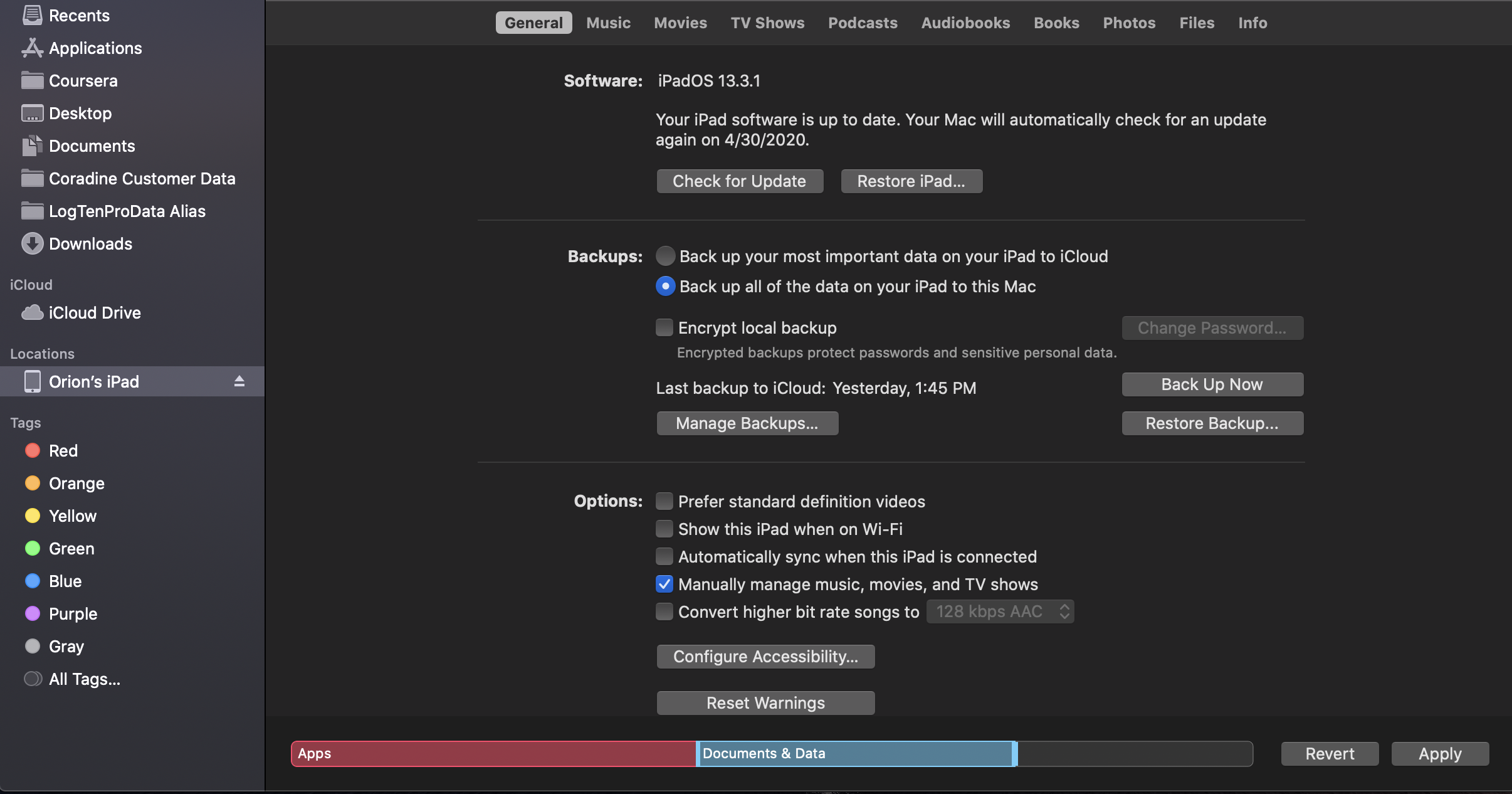 If necessary, your device can be restored from one of these backups.
Note: iTunes/Finder only keeps the most recent automatic backup of your device. If automatic sync is enabled do not sync with iTunes/Finder if you are concerned about the logbook data on your device.