How much does LogTen cost?
The best place to view LogTen prices is inside the app in the Store tab of the app. These prices will reflect your regional App Store prices. Alternatively, you can view the USD prices here:
https://coradine.com/logten-pricing/
Can the Subscription be used on Multiple Devices?
Yes. Subscriptions can be used on up to five devices for each OS. So if you have the Basic subscription, you can use it on up to 5 iOS devices. The Pro subscription allows you to use it on up to five iOS devices and five Macs. Simply log into the same Coradine Account in LogTen on your other devices, and they will be activated with your subscription.
When will my subscription auto-renew?
The App Store will begin trying to renew your subscription 24 hours before it is due to expire. The App Store will send you notices if it is unable to process the renewal for any reason.
How do I manage auto-renew?
Auto-Renew settings can be accessed via the
Manage Subscriptions
button in the Store tab within LogTen, or in your Apple ID subscription settings outside of LogTen.
Please note:
When your account is set to auto-renew, you will always renew at the same subscription rate. If you cancel your auto-renew you must re-subscribe at the current subscription prices.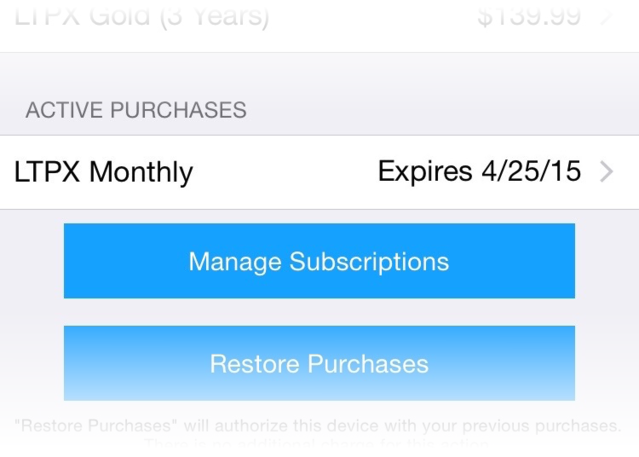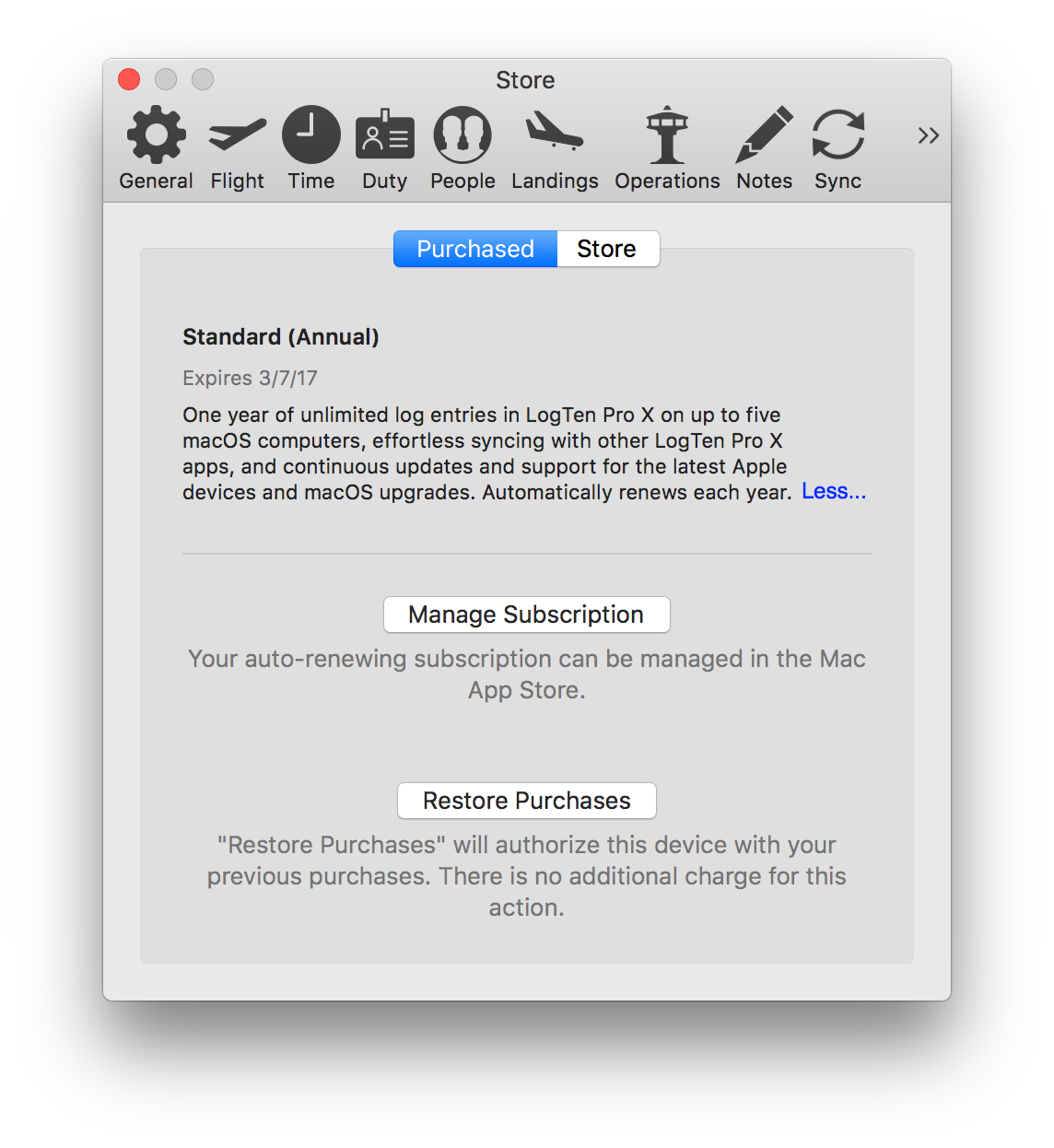 See this Apple help article for more details: Managing Auto-Renewing Subscriptions
What happens to my logbook if my subscription expires?
Nothing! All your data will still be viewable and printable. Regardless of subscription status, you can always, view, edit, and print your logbook. You will also continue to receive all application updates. The only limit when your subscription expires is you cannot add any new flights, and you cannot sync. To restore this functionality you will need to re-subscribe.
Can I upgrade my subscription?
It is easy to upgrade from the
Basic
subscription to the bundled
Pro
subscription.
To upgrade your subscription, simply open LogTen on your iPhone, navigate to Account → Store and select the Pro option.

On your iPad, from the left navigation menu, tap on Store and select the Pro version.

On your Mac, please navigate to the LogTen menu in the top-left menu bar and select Store and select the Pro option.
You are immediately upgraded and a new subscription will start on the date of the upgrade. You should also receive a refund from Apple for the prorated amount remaining of the original Basic subscription. It might take several days for the refund to appear.
Can I downgrade my subscription?
If you have the Pro subscription and want to go to the Basic subscription, the easiest method is to cancel your auto-renew and then re-subscribe when your current subscription expires. For details about canceling your auto-renew see: Managing Auto-Renewing Subscriptions
Can I extend my subscription for longer than 1 year?
All LogTen subscriptions are annual and default to auto-renewing. It is not possible to have a subscription for longer than 1 year.
Can I cancel mid Subscription?
It is not possible to cancel an existing subscription. If you have an auto-renewing subscription, you can "Cancel Subscription" to disable future automatic renewals and the app will expire at your renewal date. See Managing Auto-Renewing Subscriptions for details.
Can I get a refund?
To request a refund you must contact Apple directly, as they do not provide us with the ability to process refunds. Only Apple can process refunds for purchases made through an Apple iTunes account. Before you contact Apple please note that they do not normally refund subscriptions unless there is a gross error such as a duplicate or unauthorized purchase.
You can contact Apple Customer Support directly at https://getsupport.apple.com/. When you get to this page, click "Billing & Subscriptions" followed by "Subscriptions & Purchases." Once here, you'll be given a variety of avenues through which you can contact Apple.
We also recommend that you cancel your subscription to prevent being charged again next cycle. To do so, you'll just need to turn off auto-renew within your phone's iTunes account settings. LogTen is not able to manage this for you on our end, but the steps are easy and you can do it at any time. Please see this support article for details: http://support.apple.com/kb/ht4098