We've redesigned LogTen's layout on iOS!
Some of the information and/or images on this page may look a little bit different. We're working on updating our articles. In the meantime, you can read about the changes here.
iOS Default Pay Rates
Unlike the Mac app which has Pay Rates under People, the iOS settings are under More >> Settings >> My Logbook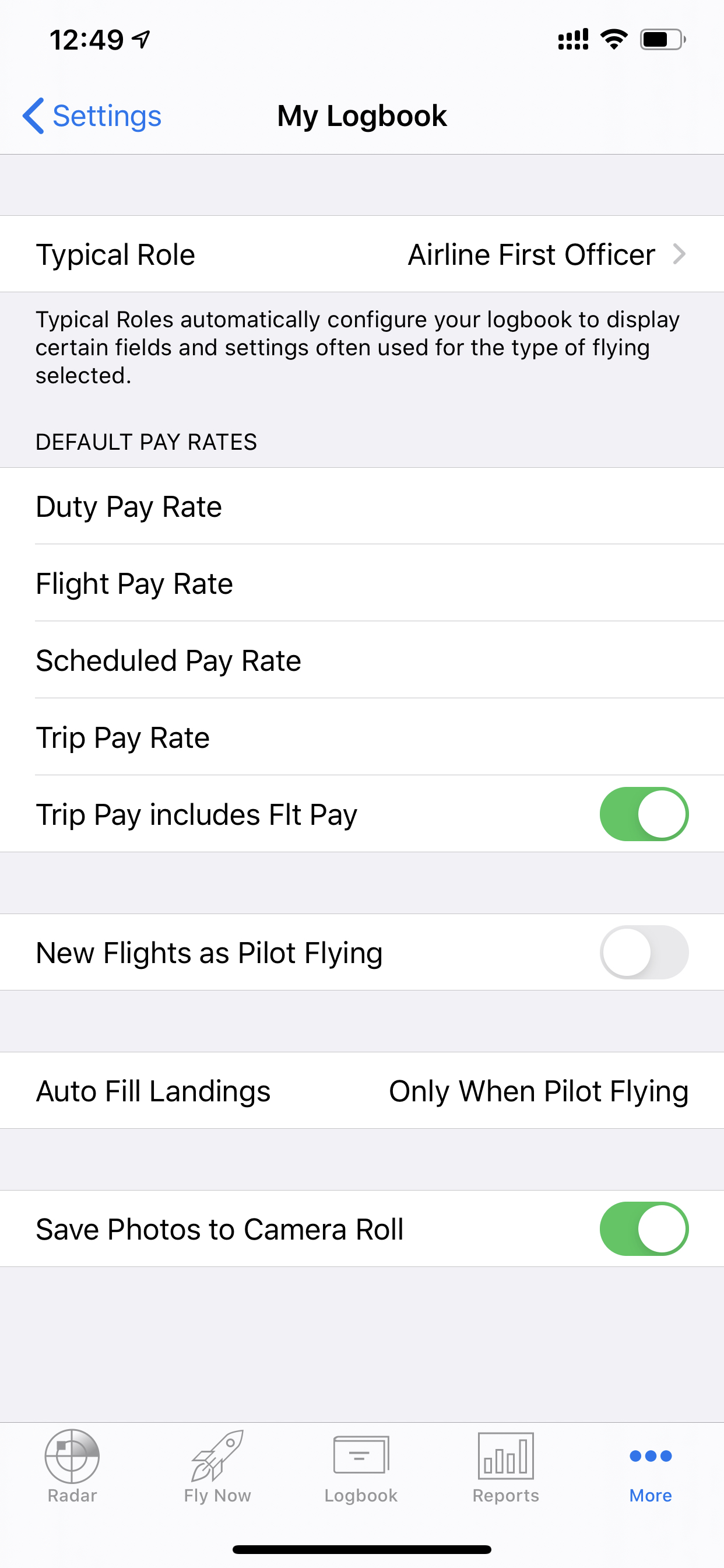 Aircraft Types Hourly Pay Rate is also under specific Aircraft Type. You will need to configure the display field to make the Hourly Pay Rate field visible.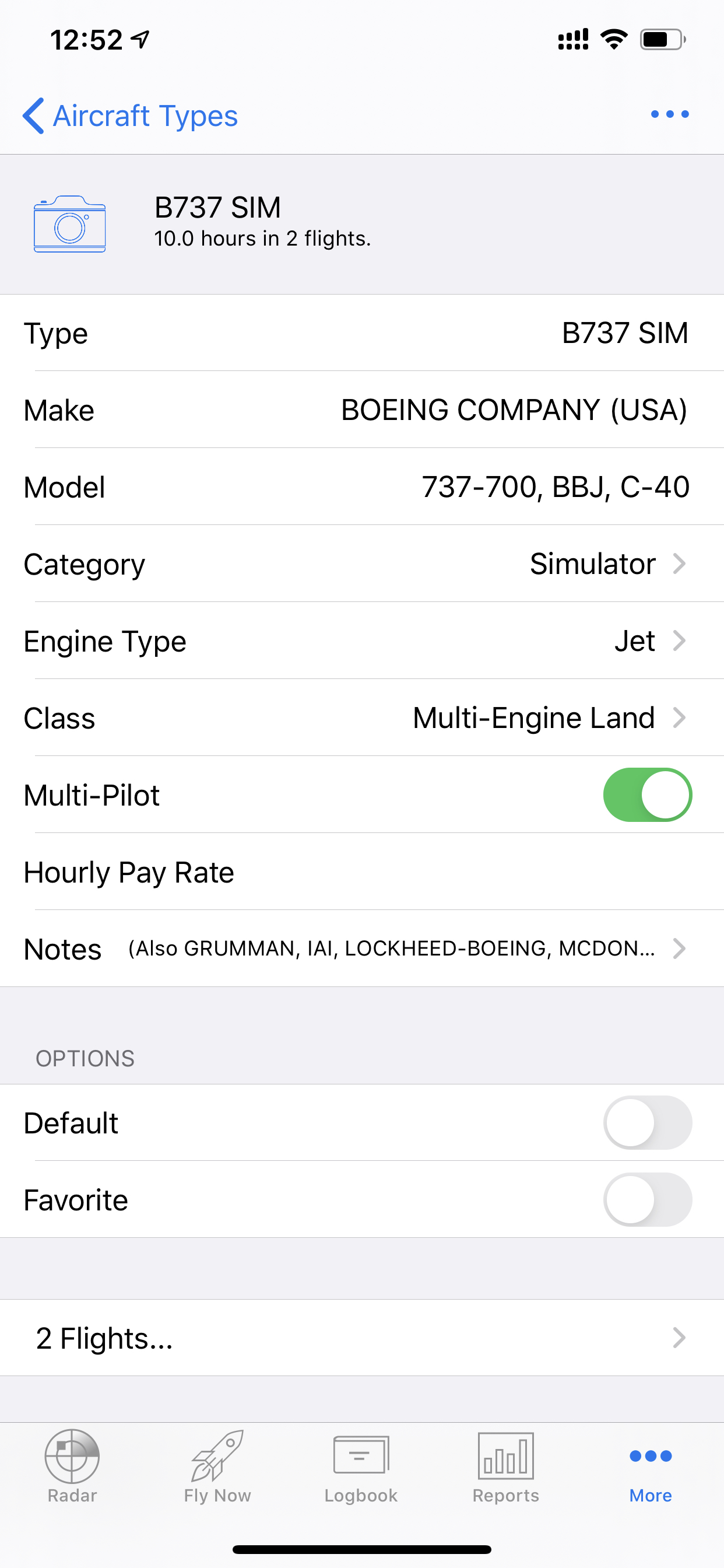 Currency
Currency Symbol is based on your device settings.

The case below is using British Pound (

£

)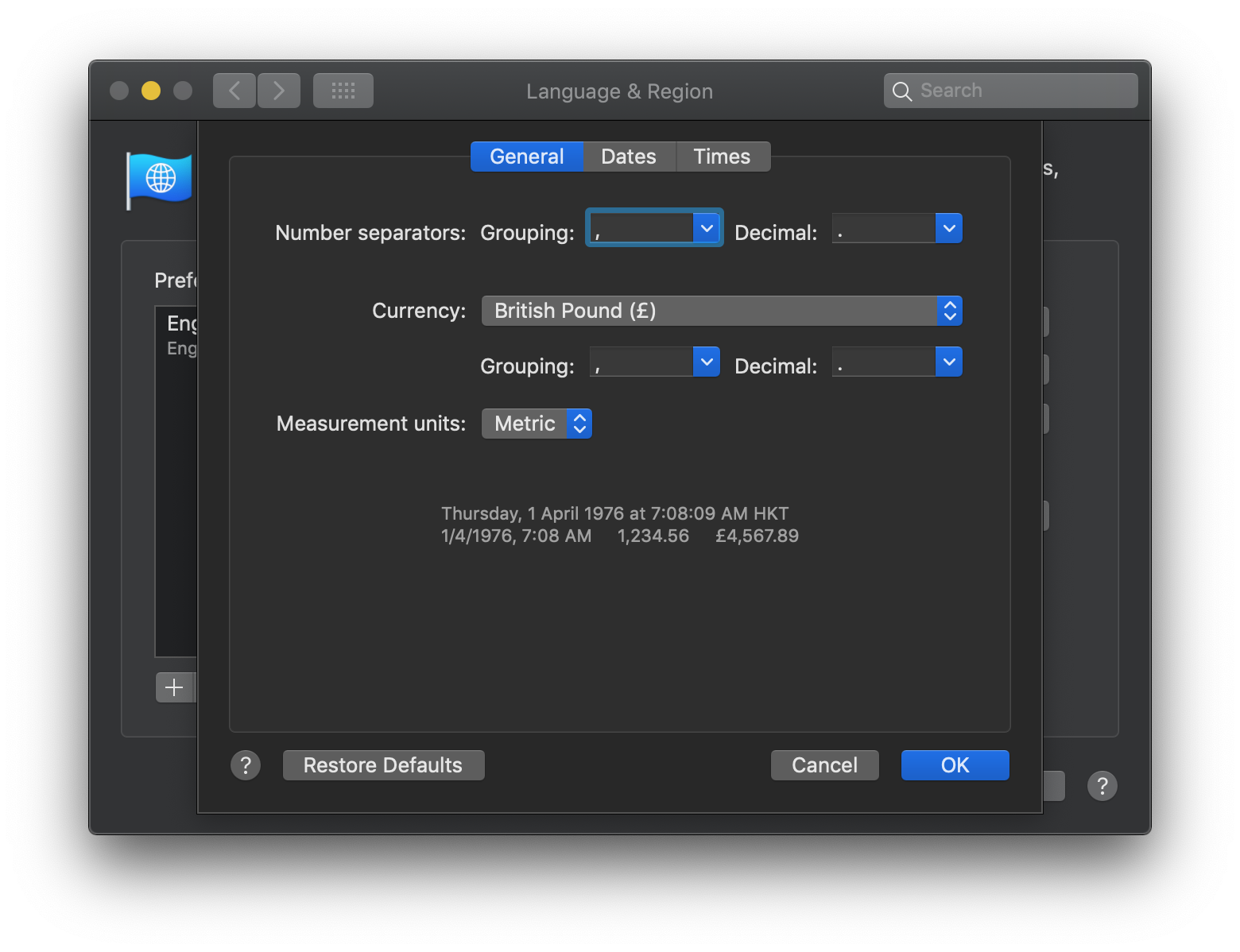 Pay Rate Settings
On the Mac, go to Preferences >> Duty >> Duty Periods >> Pay
In this Pay section, you can choose the Pay fields visible on your Logbook tab

Available Fields: "Schedule Rate", "Duty Rate", "Total Rate", "Flight Rate"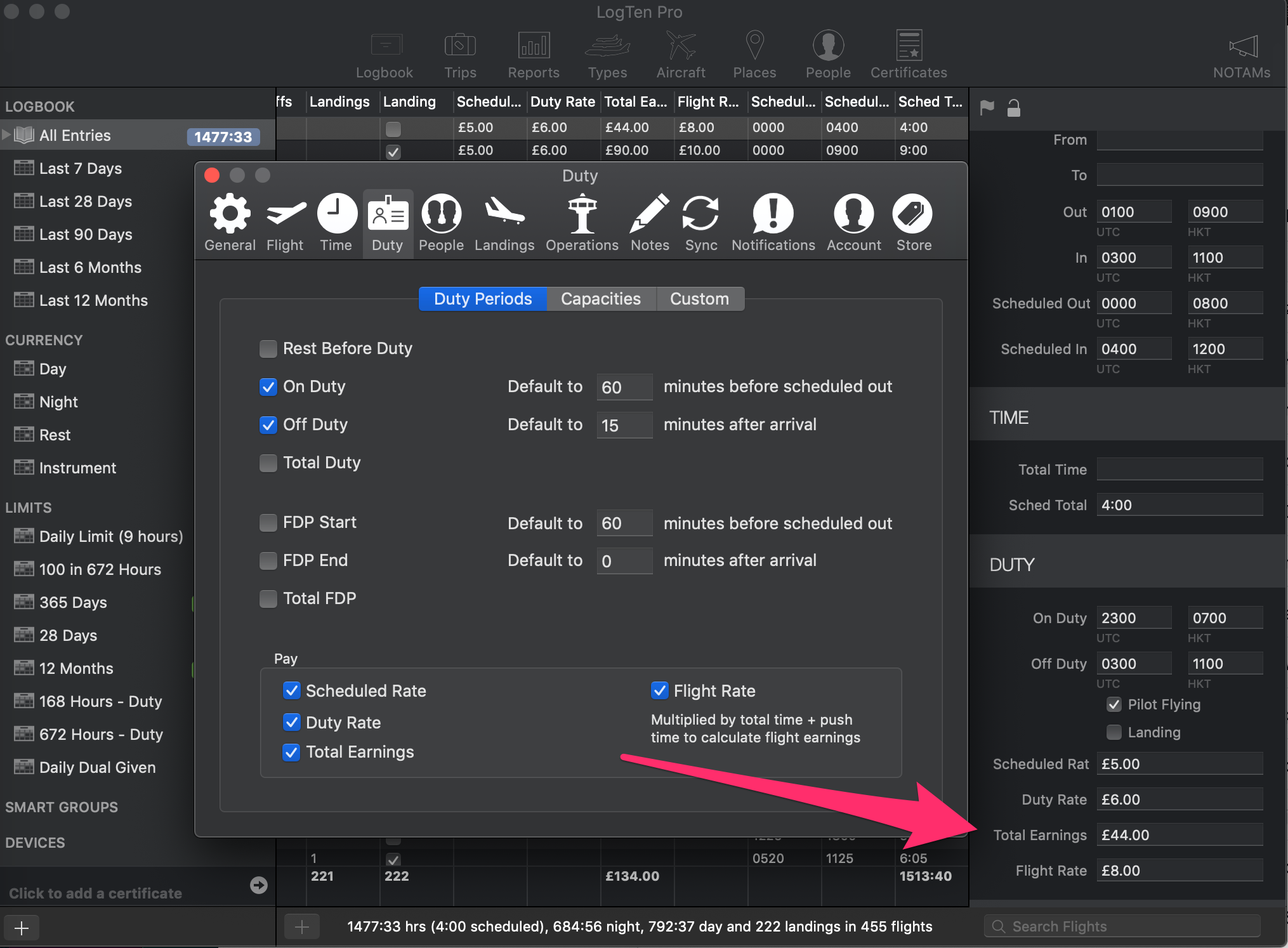 Scheduled Rate: Based on your Scheduled OUT and Scheduled IN time
Duty Rate: Based on your On Duty and Off Duty time
Flight Rate: Based on your OUT and IN time
Total Earnings: Calculated Earnings

You can modify any of these fields manually per entry, or using the default rates option (see below)

The calculation is based on

Duty Earnings (Duty Rate x Duty Hours) + Flight Earning (Total Time x Flight Rate), or

Duty Earnings (Duty Rate x Duty Hours) + Scheduled Earning (Scheduled Total Time x Scheduled Rate)
Default Rates
Each entry pay rate can be different

. You can set up the rate based on that particular entry.
If you set up the default rates, when you add a new logbook entry, this default rate will copy to your new entry

To activate the default pay rate:

Go to People Tab
Find your name
Choose the option "This is me"
Default Hourly Pay Rates option will be visible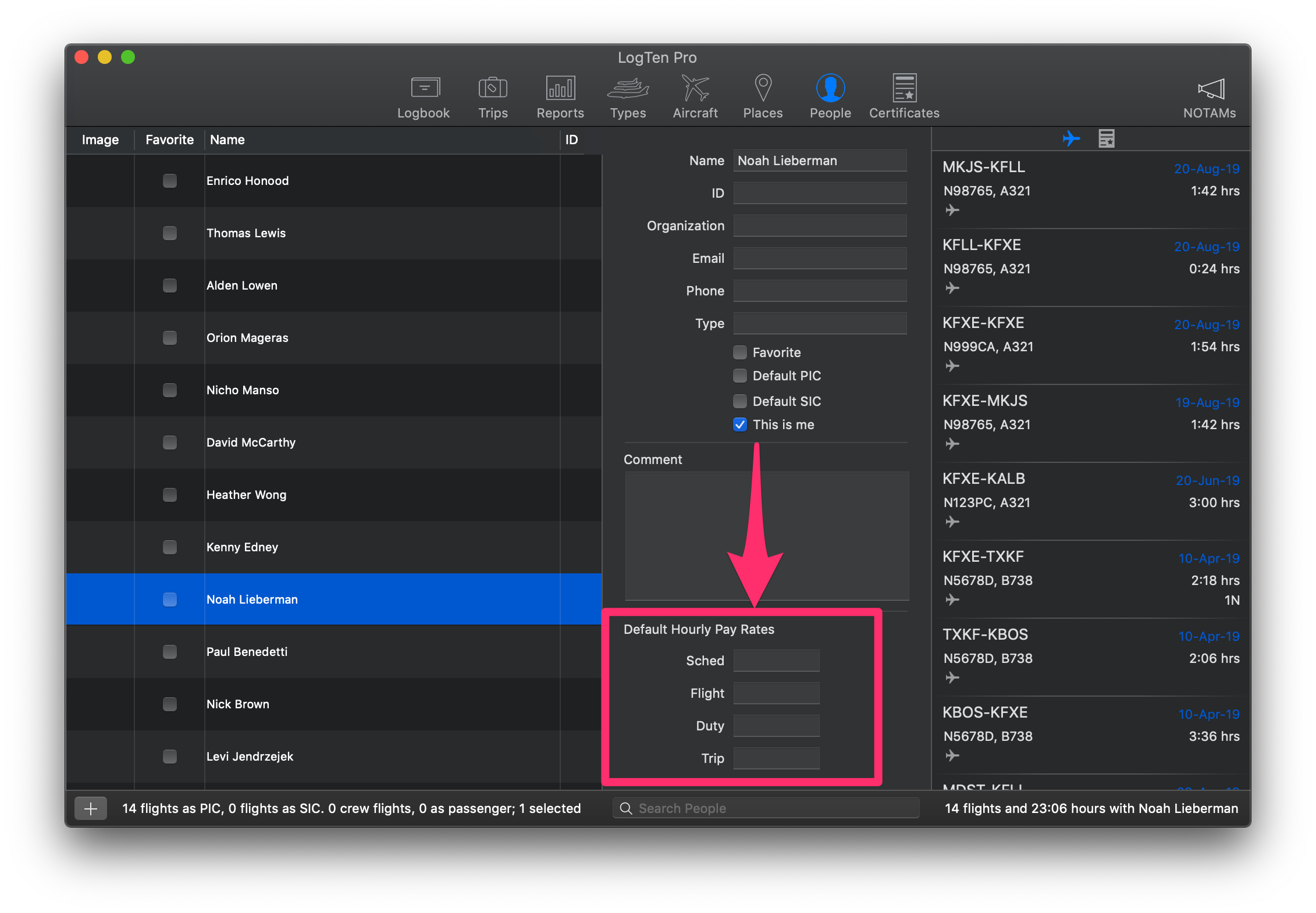 For the Trip pay rate function, please refer to Overview of Trips Tab
Pay Rate by Aircraft Type
You can set up a different rate for a specific aircraft type
Go to Types tab >> Select the specific Aircraft Type >> find Hourly Pay Rate option
When you enter this aircraft type on the new logbook entry, this hourly pay rate will copy to the "Flight Rate" field on the new entry.