This article will explain how to Save and Print LogTen reports on iOS and Mac. All the reports in LogTen, with the exception of the Exporters, can be saved in one of two formats.
Exporter reports are saved in the format specific to its purpose. See the bottom of this article for more info on Exporters.
PDF
LogTen has the ability to create full-sized PDFs. If you want to print your report or send it electronically for an application, a PDF format is recommended.
iOS
After generating your report you will notice a button in the upper-right labeled Save As PDF. Select this and you will see the Share icon (a square with an up arrow) appear.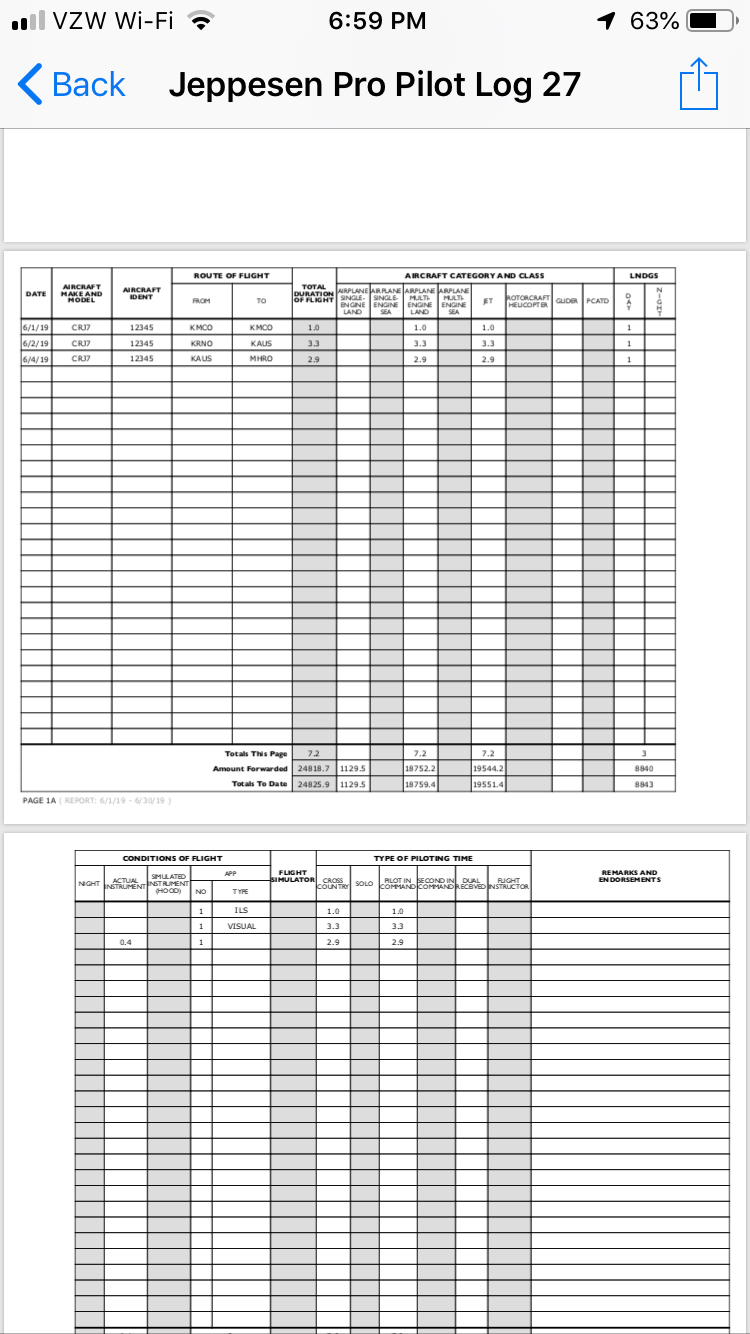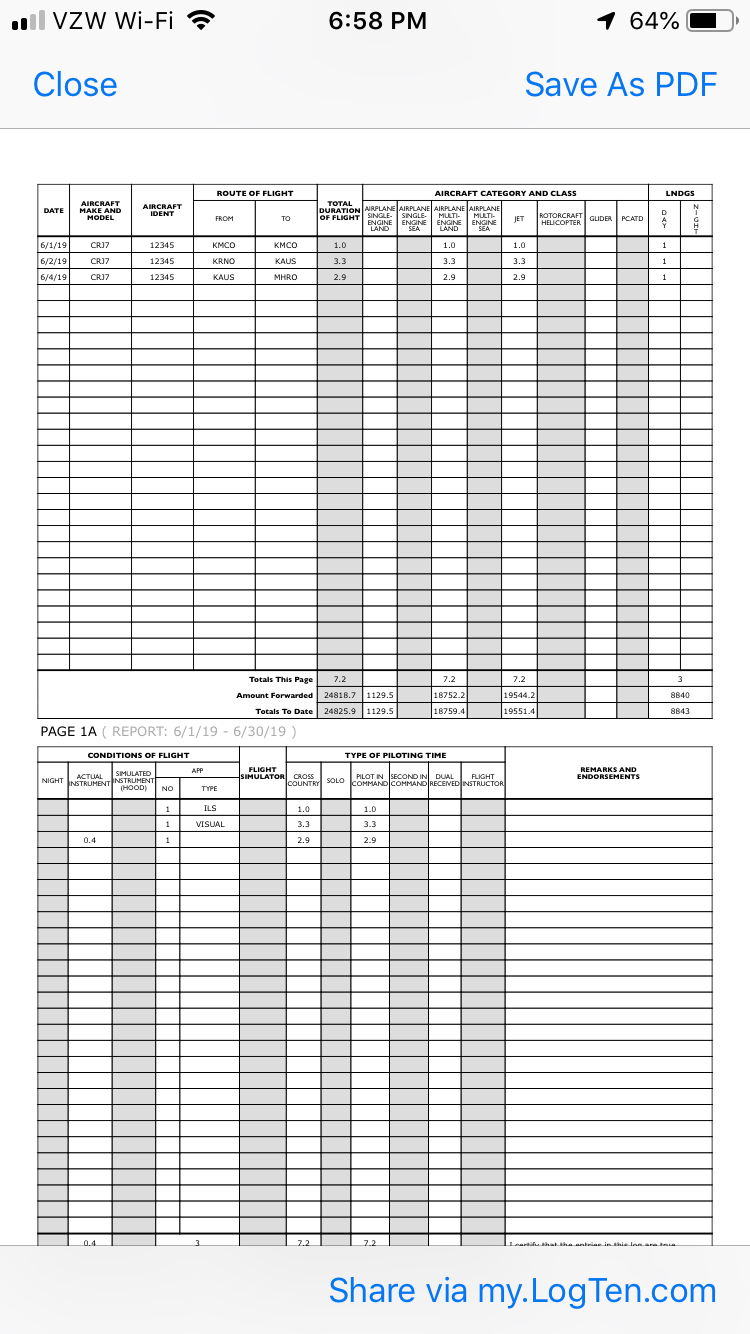 Select the Share icon and you can send the report to yourself via a variety of methods depending on the iPhone + iPad applications that are loaded on your device. Email, AirDrop, Text, Dropbox, etc.
Mac
After generating your report you will notice a button in the lower-right labeled Print / Save As PDF. Select this and the default PDF program on your computer will open. Preview, Adobe, etc.. You can then use the PDF program to save and/or print your report.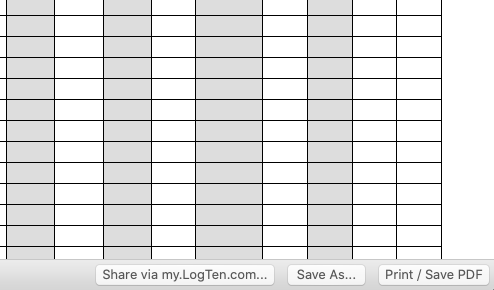 HTML
You can also view your report as an HTML file. This format is useful if you want to review your data in a web browser such as Safari or Chrome. To use this method, select the button at the bottom labeled Share via my.LogTen.com. Enter an email address and the report will be sent. The email will be from Coradine Aviation and have a subject titled "Your LogTen Logbook Report is Ready". In the email will be a link to View your report.
iOS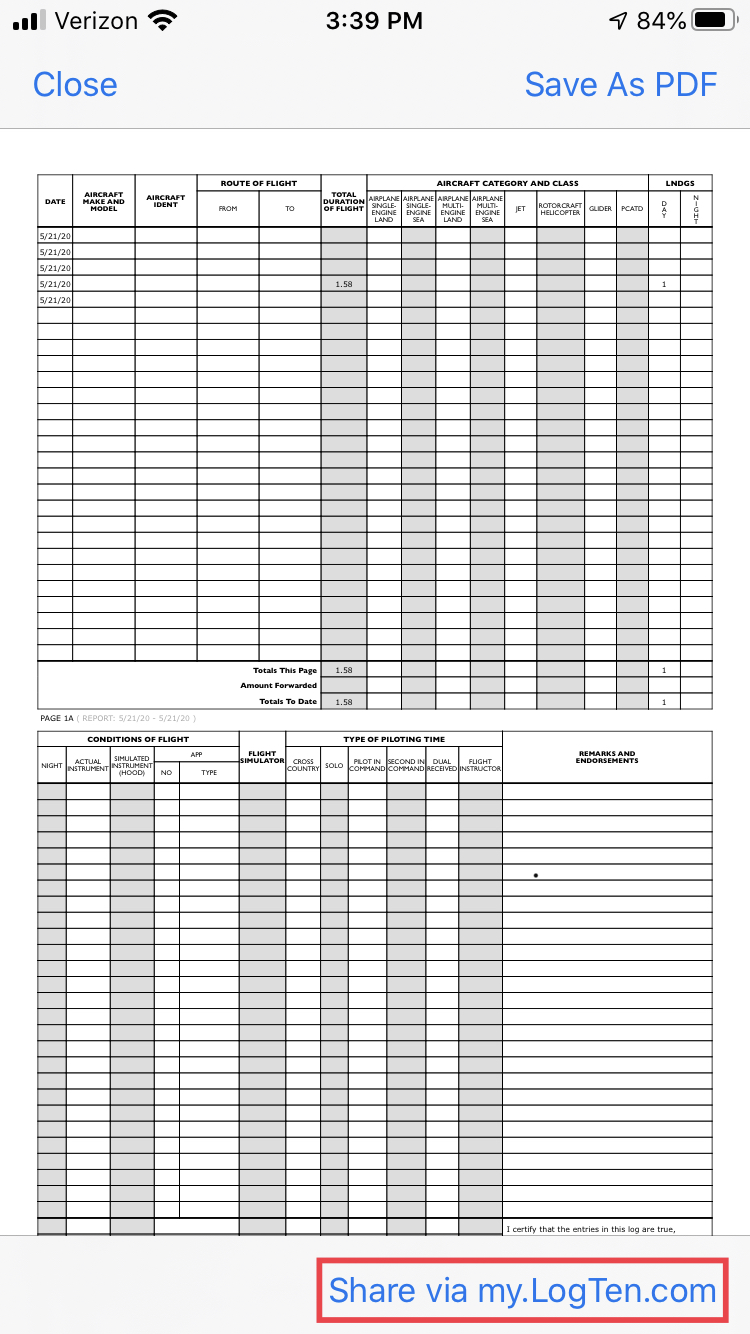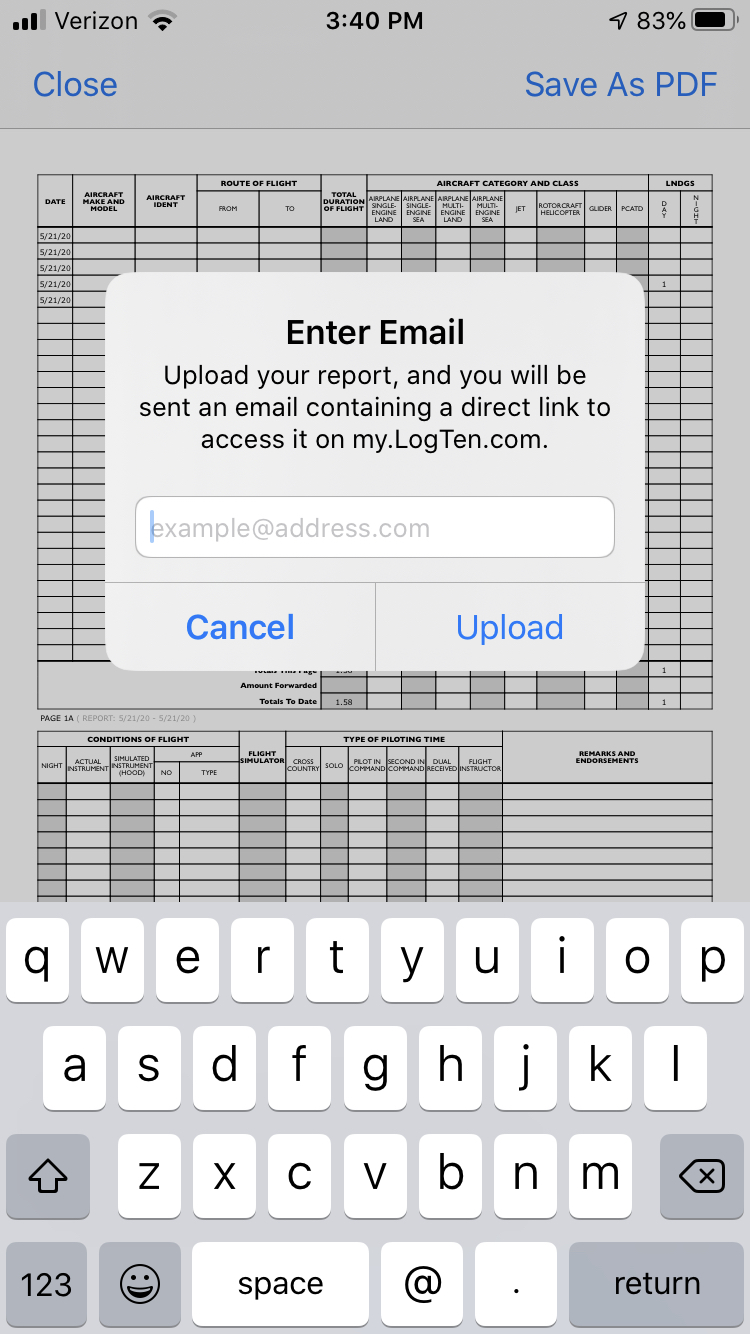 Mac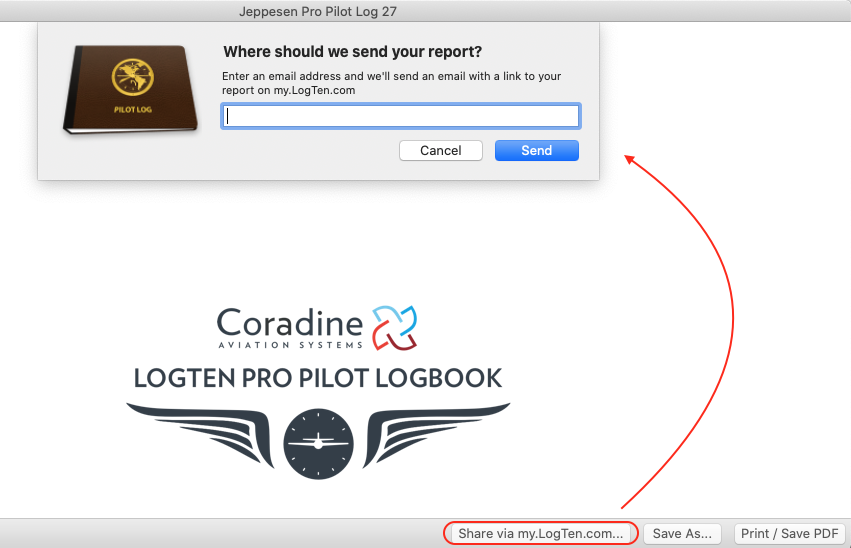 On Mac, you can also use the Save As... button to save the HTML file directly to your computer.
Exporters
Exporter reports, Located in Reports > Exporters, are generated in specific formats such as Tab (spreadsheet), ICS (calendar), or KML (google maps). Due to this, it is best to save them in the format in which they are generated.
On iOS, after an exporter is generated, it will automatically bypass the normal save options. You will immediately be asked how you want the report sent.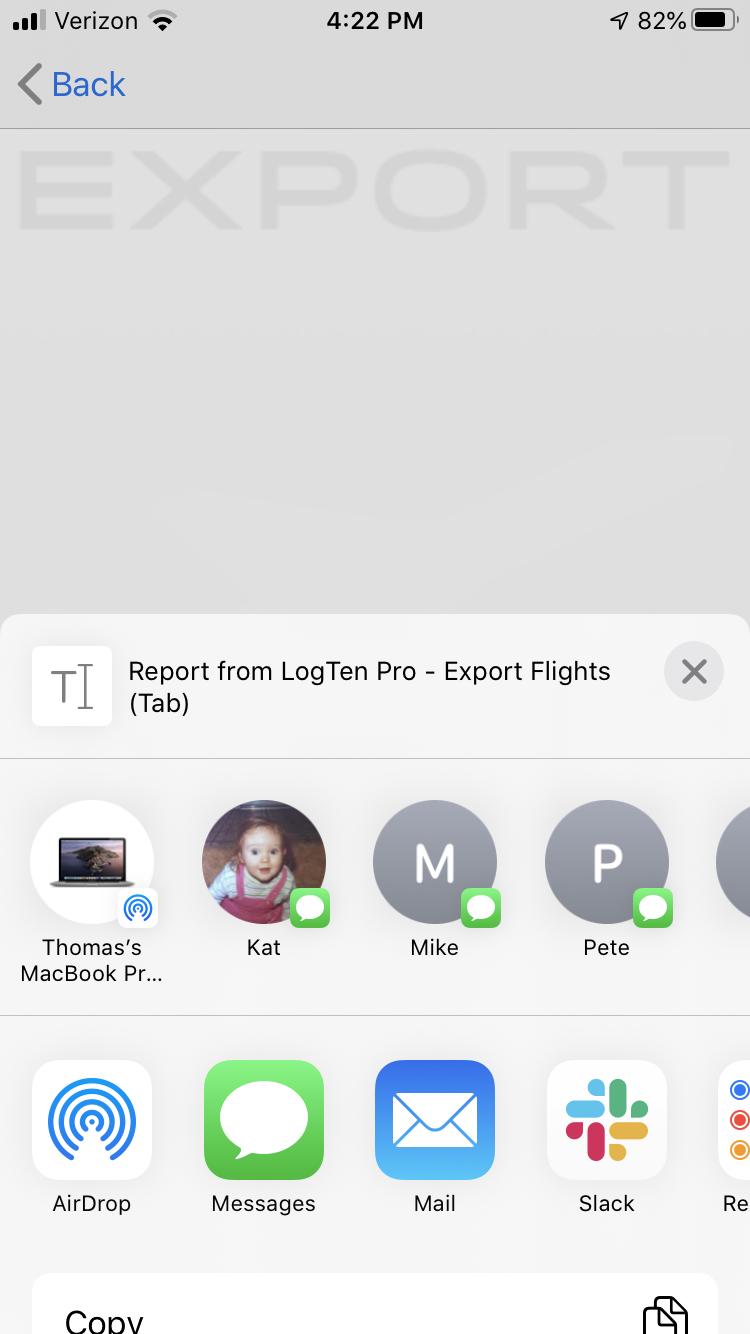 On Mac, choose the Save As... option. You will have the option to choose where to save the file on your computer.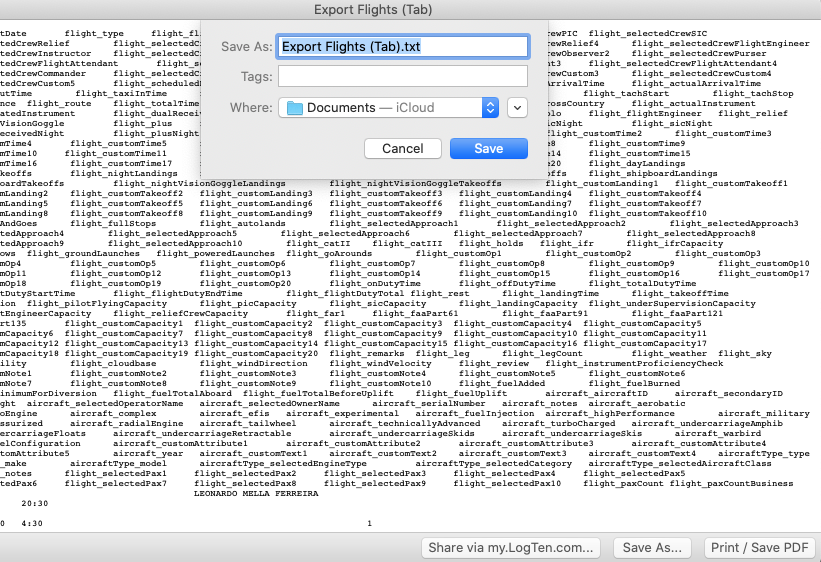 Additional assistance with this or any other LogTen issue is available here or by contacting support in the app by going to More > Help > Contact Support.