The Aircraft tab is used to add and manage all of the individual aircraft in the logbook. It is important that the aircraft be set up correctly to ensure accurate reporting. LogTen Pro cross-references data associated with each aircraft to determine many different types of time.

Adding a New Aircraft
To add a new aircraft, go to More > Aircraft and tap the + in the upper right corner. Alternatively, you can arrive on the same page by tapping Aircraft ID in a new entry in the Logbook Tab.

Type the identification of the aircraft in Aircraft ID. Tap on Type and choose the aircraft's type. If you have not added this type of aircraft before, tap on the + in the upper right corner and add the type. Please see Managing Your Aircraft Types for more information.

Customize Aircraft Attributes
LogTen Pro allows you to assign many attributes that are specific to the Aircraft ID. On iOS, you can choose which fields to display (or not display) within the Aircraft tab
If the attribute is not viewable by default, select the Action Button (3 dots upper right) then Configure Fields. A Configure Section... will appear. Select this and choose which fields you would like to make viewable. There are also 10 custom fields you can use to add your own attributes. 5 slider (checkbox) fields and 5 text fields. You can rename all the custom field titles by clicking the title.
Select Back when you are done.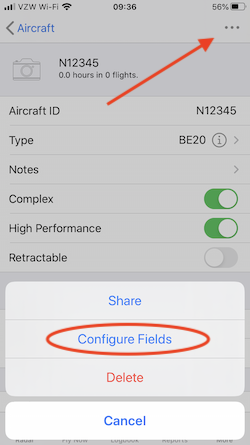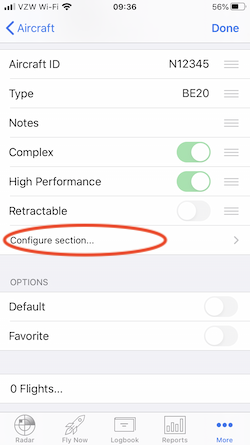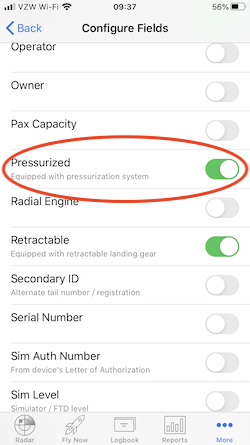 Choose the attributes that apply to that aircraft. In the below King Air 200 example, we have chosen Complex, High Performance, Retractable, and Pressurized.
Once you have your aircraft set up, you can use Smart Groups to easily track time (or other data) associated with these attributes. See How do I see my time for MEL, SEL, High Performance, Tailwheel, etc.? for more in info.
Note: The Aircraft Type tab will determine attributes such as Category (Aircraft, Simulator), Class (SEL, SEL), and Engine Type (Reciprocating, Jet).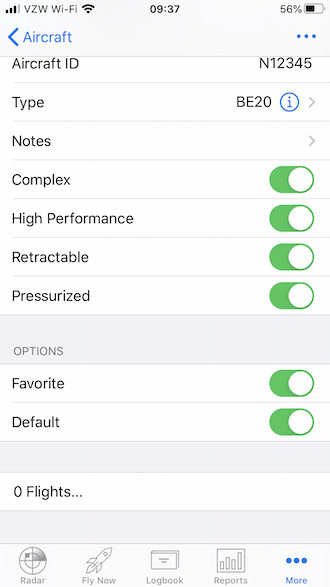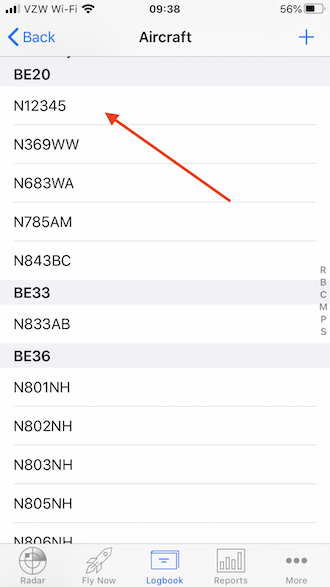 Other Options
Favorite = Check this box to keep this aircraft at the top of the pop-up list when filling in the Aircraft ID field in a new logbook entry. You can also use this to sort by favorites in the Aircraft Tab.
Default = Check this box to have this aircraft automatically populate in new logbook entries.
Flight List
All logbook entries associated with the aircraft are quickly accessible by tapping the field at the very bottom of the screen that lists how many flights have been made.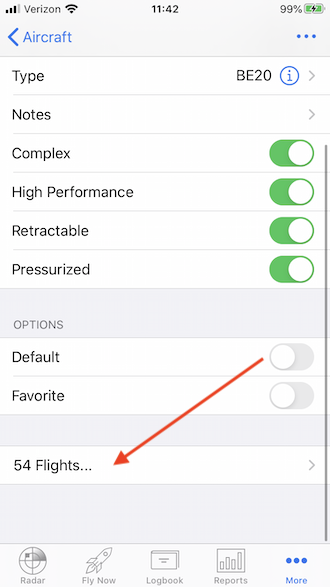 Additional assistance with this or any other LogTen Pro issue is available here or by contacting support in the app by going to More > Help > Contact Support.