There are more than 100 professional logbook report templates included in LogTen, and while they're based on official logbook formats, they may not always have everything you're looking for—maybe you need to include specific information for insurance or tax purposes, or you want to highlight a custom field in an interview.
That's why LogTen includes the ability to generate Dynamic Reports.
Dynamic reports allow you to create customized logbook reports based on the data that you currently have included/visible on your Logbook entries, giving you all of the data you want in the clean, professional layout you need.
Note: since dynamic logbooks only include the information that's currently visible in your logbook, it is not recommended that they be used as a primary backup for your logbook. Instead, we recommend running the Export Flights (Tab) report, which contains all of your data and is specially formatted to be re-imported into LogTen if necessary.
Setting up your logbook
Prior to running the report, make sure that your logbook includes all of the data fields you require for your report, and that your fields are arranged in the order you want.
Refer to Configuring your Logbook on iOS and Mac, where you can find out how to make fields visible/invisible and rearrange them in the order that you want them displayed in your report.
Generating your Dynamic Report
Now that your logbook is ready, let's go ahead and run the dynamic report. The following instructions will work in both the Mac and iOS versions of the app:
Go to Reports >> General.
Select one of the following four dynamic report templates:

Dynamic One-Page Logbook (US Letter)
Dynamic One-Page Logbook (A4)
Dynamic Two-Page Logbook (US Letter)
Dynamic Two-Page Logbook (A4)

If applicable, set the date range for the report.
Press Generate Report.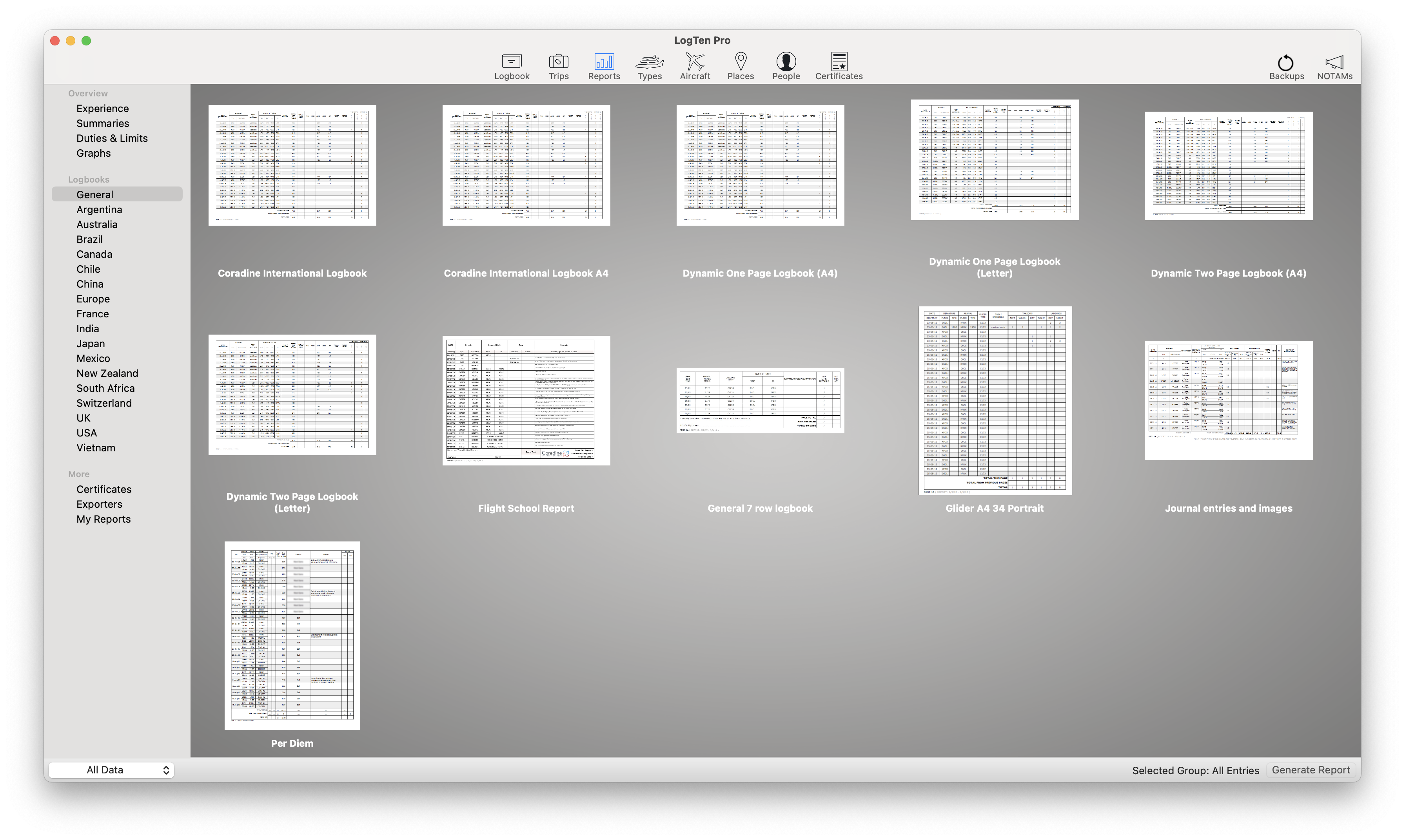 *Note: if using LogTen for iOS, you'll be prompted to select your date range *after pressing Configure Report.
Tips
Make sure you've selected the right report template for the paper size you're using.
Make sure you select the template that best accommodates your data; if including more than 12-16 data fields, you'll likely need to run the 2-page template to allow enough room per page for your data.