On your Mac, you have the option to move your logbook database to a different location. This can be helpful to take advantage of any number of apps providing free file syncing and online storage, such as Dropbox. These are very convenient methods of backup since all changes to your logbook will be automatically saved to the cloud.
NOTAM: Never have LogTen Pro open on multiple Macs at the same time if sharing a single file using one of these syncing services. They are unable to accurately merge changes from both sources together, and the file will become corrupted.
We generally recommend storing data in the default location whenever possible and only recommend using an alternate location when using wifi sync across multiple Macs.
Also, keep in mind that moving your data to an alternate location is NOT the same as making a backup and it may result in data loss. While some older dropbox plans did include unlimited access to file version history, current dropbox plans only allow file version history access for 30 up to 180 days depending on the plan you choose.
Unfortunately, it is not possible to use iCloud sync when using an alternative location.
For further information about iCloud Sync, please see our article on Frequently Asked Questions about iCloud Sync.
Dropbox Backup
Dropbox is a free app that will show up as a regular folder on your computer, but everything you place in this folder will automatically sync to 2GB of free online storage, as well as any other computers that you have Dropbox installed on. This is also a great method of automatic backup since it uploads the current copy of your logbook to the cloud whenever the file changes.
Setting up your logbook to automatically backup to Dropbox is a two part process:
Move your logbook data to your Dropbox folder by following the directions below.
Follow the steps to Open your Logbook from an Alternate Location below
Moving Your Logbook to an Alternate Location
Close LogTen Pro by choosing File >> Quit or pressing command + q
Open a Finder window
Select the Go menu at the top of your screen, and choose Go to Folder..

Copy the following file path into the Go To dialog:

~/Library/Containers/com.coradine.LogTenProX/Data/Documents/

The LogTenProData folder contains all information important to your logbook, including all images.

Move the LogTenProData folder to the location you would like to keep it.

Note: Please make sure you do not move anything other than LogTenProData.

After moving LogTenProData, you can rename it if you wish.
Opening a Logbook in an Alternate Location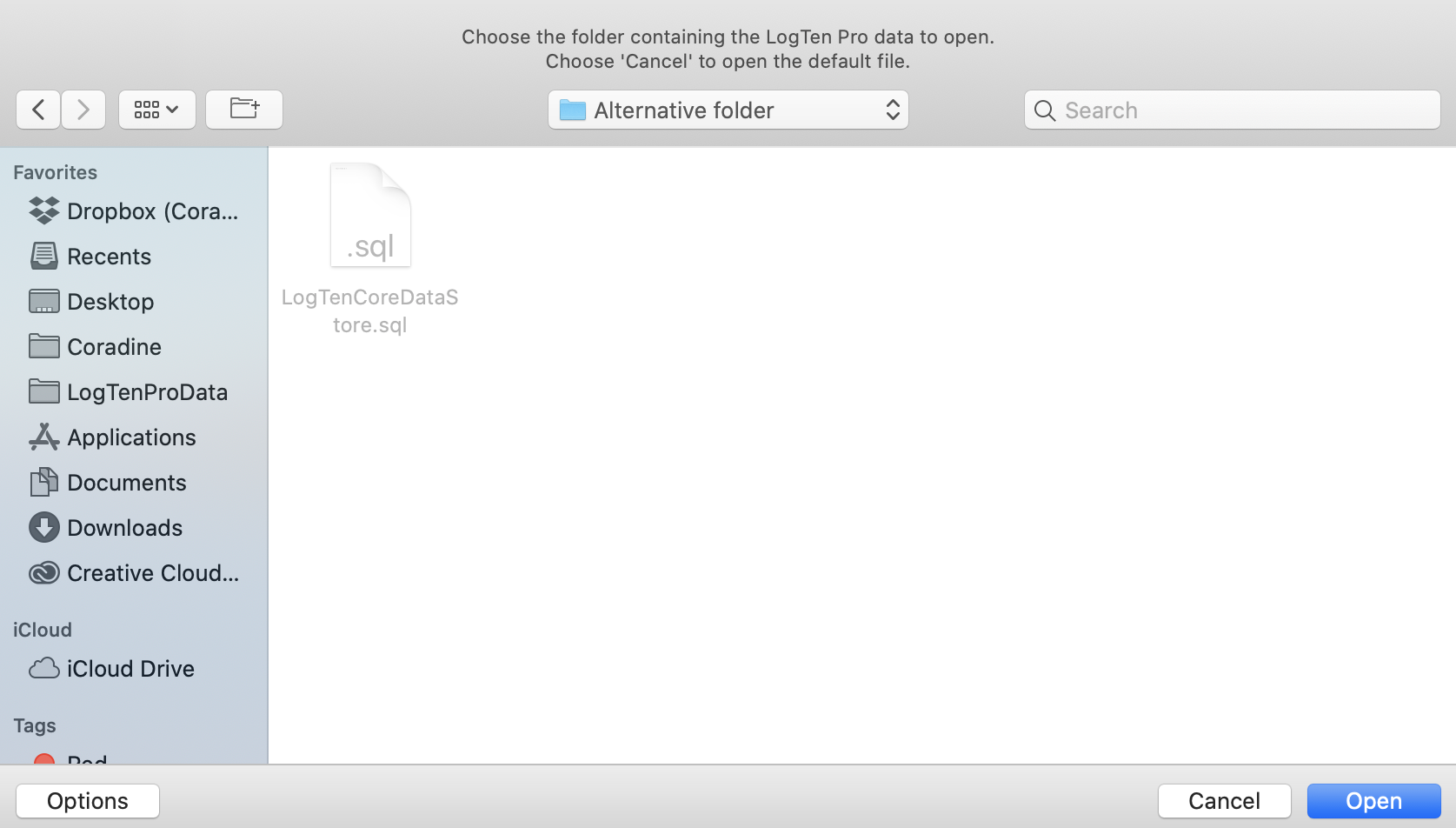 Hold down the option key while you open LogTen Pro, and a file open dialog will appear (as seen above).
Select the LogTenProData folder (or a renamed folder containing the logbook data) you wish to open.
Select the Options button at the bottom left of the screen.

Select the Remember this location button if you want LogTen Pro to automatically open the logbook at the new location on future launches.

With the addition of iCloud Sync in LogTen Pro 6.5, Remember this location has additional behavior in order for iCloud Sync to function correctly.

Remember this location is required for iCloud Sync to be available.
If left unchecked, iCloud Sync will be completely disabled until LogTen Pro is re-opened. If iCloud Sync is currently setup with a different logbook, it will continue syncing properly the next time it is opened.
If iCloud Sync is currently active, and a different file is opened with Remember this location checked, iCloud Sync will be restarted with the new file.

If your logbook is already being opened from an alternate location, a Reset to Default button will be available, allowing you to switch back to the default database location.

Hit the "return" key, and your logbook will open from its new home!